As more people find themselves needing to work from home offices, wouldn't you like to know about the best work from home job opportunities?
Of course you would!
Wouldn't it be fun to leave the long commute behind?
Instead, imagine waking up each day, grabbing a cup of coffee in your bathrobe, and then hopping on your computer in your home office when it's time to get to work.
You're probably excited about the extra time you'll find in your day when you don't need to travel to and from work anymore.
Maybe you'll spend a little more time with your family.
Possibly, you'll sleep an hour later and feel more rested.
Or, maybe you'll now have time to exercise every day and get into better shape.
Best of all?
You'll find that gaining control over your financial situation is the best part about finding one or two quality work from home jobs.
Let's show you the 10 best work from home jobs to consider for your situation.
1. Companies That Hire For Work From Home Jobs
Make FlexJobs a part of your plan to find the best work from home jobs.
The website gathers various remote job opportunities into one place. Here are five companies that hire remote employees to get you started:
VocoVision
This company uses interactive sessions, games and video conferencing to provide speech therapy services. VocoVision employs speech-language pathologists, occupational therapists, school psychologists and sign-language interpreters in order to help people in need of these services.
Recent work from home opportunities include:
Deaf & Hard of Hearing Teacher
School Psychologist
Speech-Language Pathologist
Learn more about working with VocoVision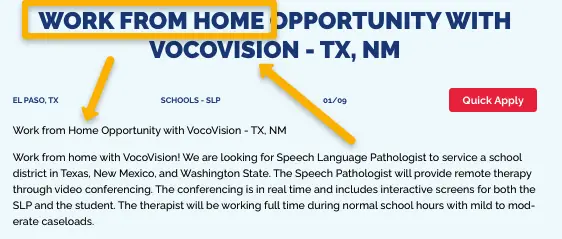 Kaplan
Recent remote jobs offered by Kaplan:
Nursing Instructor
Teaching Assistant
Tutor
Their company helps students prepare for exams, learn languages, earn degrees and prepare for university. Working with Kaplan includes paid time off, comprehensive benefits and competitive pay.
Learn more about working with Kaplan
Supporting Strategies
Supporting Strategies hires remote positions such as bookkeepers or accountants and provides the following types of services to clients:
On-demand small business accounting
Financial reporting
Budgeting
Revenue recognition
Accounts payable
Bookkeeping
Learn more about working with Supporting Strategies
Lionbridge
Lionbridge offers multilingual websites, international marketing, content & testing, engineering services and machine intelligence. Recent remote jobs include:
Map Quality Analyst
U.S. Rater
Social Media Assessor
Learn more about working with Lionbridge
Robert Half International
This company owns and controls consulting and staffing operations in over 400 international areas. They are one of the most influential firms when it comes to providing consulting services.
Recent remote work from home jobs include:
Landman
Digital Marketing Manager
Mortgage Customer Service Rep
Learn more about working with Robert Half International
2. Virtual Assistant
Working as a virtual assistant (VA) means you're entering a field that's in high demand.
Many types of businesses and online marketers need the type of work conducted by virtual assistants.
VA duties include the following:
Handling phone calls
Opening, reading and categorizing emails
Organizing files
Paying bills
Posting on social media
Making small website tweaks
Customer service
Editing videos
The job is a mixture of creative, technical and administrative services and it all depends on your client's needs.
You might find yourself working in finance, government, legal, health care or with an independent online entrepreneur when working as a VA.
The pay scale for VA work ranges between $21,000 and $59,000 per year, with an annual salary average of $41,000.
You'll need a combination of skills when working as a virtual assistant:
Phone skills
Online marketing
Social media
Time management
Data entry
Communication
Organization
Job board websites offer multiple virtual assistant positions, such as Appjobs, Glassdoor and Remote.co: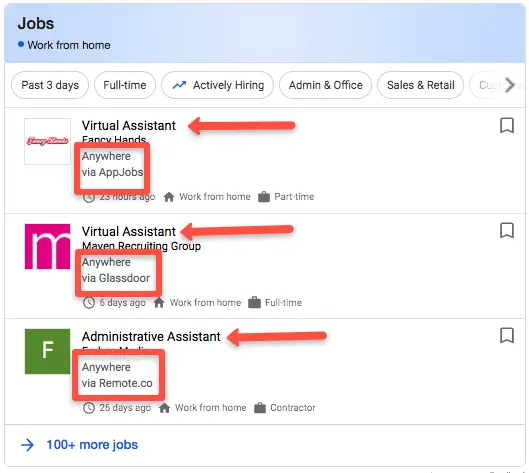 Performing a simple Google search like "virtual assistant remote jobs" or "virtual assistant work from home jobs" will reveal dozens of results that should keep you busy for a long time when it comes to the application process.
Another way to attack your VA remote job goal is to connect with opportunities at websites such as:
3. Blogging For Work From Home Income
How would you like to take a more entrepreneurial approach to your work at home search?
Use the blogging tutorial found here to build your own blog and monetize your online traffic.
Three main ways to monetize your blog exist:
Ad revenue
Affiliate marketing
Product creation
Once your website traffic reaches 1,000 to 5,000 monthly unique visitors, sign up for the Google AdSense program.
It's as easy as these 10 steps: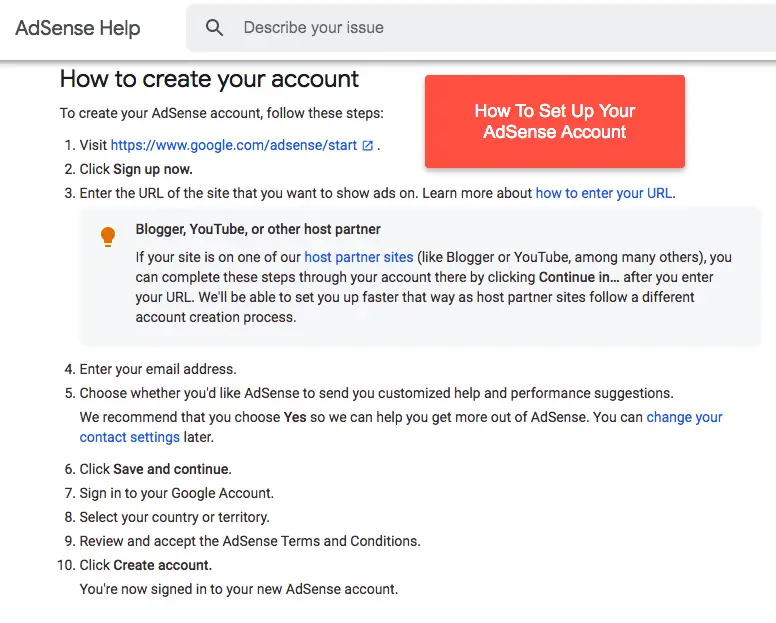 Go here to learn how to join Adsense.
Join the Ezoic platform after your website has reached at least 10,000 monthly visits.
Ezoic uses artificial intelligence technology to learn how your visitors respond to certain ad sets.
Using this machine learning approach, the company maximizes your ad revenue while ensuring that your visitors enjoy their experience on your blog.
Another way to make money from home with your blog is affiliate marketing.
Affiliate marketing doesn't require anything more than matching the topic of your blog with third-party products that your audience will love to buy.
Amazon is a great example. You can link your blog visitors to Amazon products that match what you blog about.
Many other affiliate networks exist, however, and you should explore more profitable affiliate commissions than the payouts offered by Amazon.
Eventually, you'll want to mature into developing your own products.
This might include something as simple as a short video course or membership site that takes blog readers into more effective solutions than your blog posts have the ability to deliver.
4. Freelance Web Developer
If you possess web development skills, then you aren't far from securing one of the best work from home jobs available on the Internet.
Every business requires web development skills to get their website, app or software working well.
Although this sector is competitive, it's one of the highest paying remote work opportunities.
Some websites show $90,000 as the top of a web developer's payscale. However, this is for basic web development skills.
You'll find that six-figure income opportunities become realistic once your skills rise into the area of understanding how to work with more advanced coding like Ruby on Rails, PHP or Python.
Get your web development income started by building websites or sales funnels for clients with basic HTML or CSS skills.
Continue developing your skills until you can get into higher-paying back-end developer positions where you start building:
Application programming interfaces (APIs)
Databases
Server scripts
Notice the types of web developer jobs a quick Google search reveals: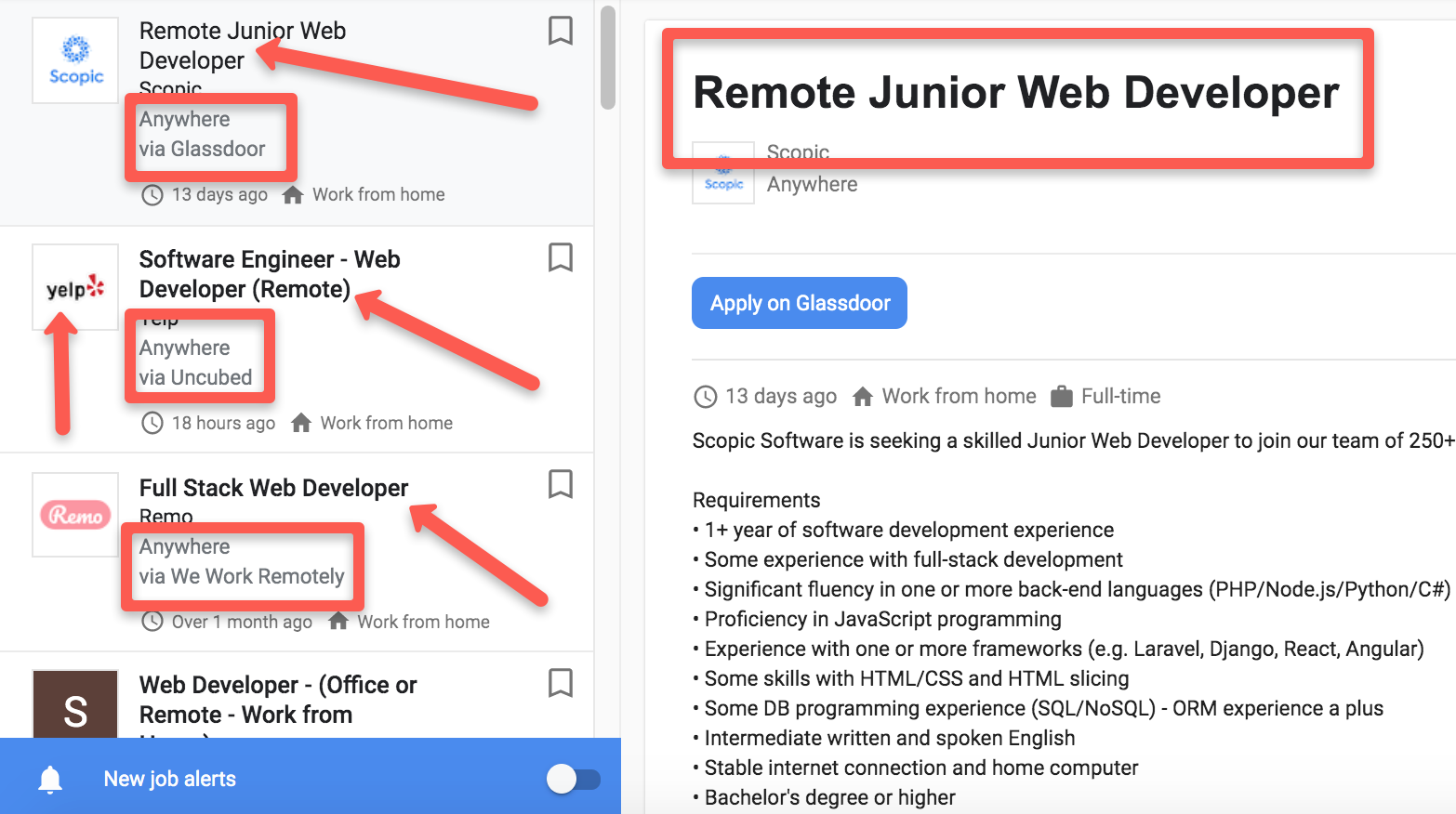 Using sites such as Uncubed, Salary or We Work Remotely shows that plenty of remote jobs exist in this area, even from well-known companies like Yelp.
Guru and Upwork will also reveal nice opportunities for you.
If your skills are more advanced (or once they get there), then it's a good idea to focus on more industry-specific job board sites like Stack Overflow or GitHub.
5. Freelance Writer Work From Jobs
Turn your writing skills into a remote job, set your own hours and work comfortably from home with a cup of coffee while sitting in your pajamas…if you'd like to, of course!
Experts report that online writers will increasingly become more important to businesses in a post-Covid world.
Get yourself set up now by developing relationships with businesses looking for online content and you'll have job security for years to come.
The best way to get started is to put a portfolio together. It's not a bad idea to start a small 4-page website that includes a simple homepage, About section, Contact page and a portfolio page.
Use the portfolio page to link out to some of your best writing pieces. In the beginning, write articles on your blog, LinkedIn profile, or even a platform such as Medium.
Then, start applying for work.
Freelancer, Upwork and Guru have businesses looking to hire writers on them.
One of the best places to find writing gigs is on the Pro Blogger Job Board. These will typically be more serious jobs with higher-paying opportunities than Upwork or Guru.
Keep in mind that most of the general job boards like Indeed or ZipRecruiter have freelance writing gigs available:
6. Social Media Marketing Manager
A wide range of skills comes into play when you're working as a social media manager.
You can work in the following areas:
Customer service
Copywriting
Marketing
Many companies use their social accounts as customer service channels.
You can work from home helping customers on social media if you have skills such as:
Mediation
Communication
Sales
Product knowledge
Troubleshooting
Are you good with copywriting and creating sales messaging that helps people make a decision to move forward as either subscribers or customers?
How about knowledge of sales funnels and putting together optin, sales and thank you landing pages in the correct sequence?
If so, then you have the skills needed to oversee social media campaigns for small, medium and large businesses.
Add in the ability to lead others and you might find yourself working up the ladder into management…all done working remotely from your home.
Small to medium businesses are typically run by entrepreneurs who know they must use social media to build their brand.
However, they're usually too busy to get it working correctly and welcome the help of someone passionate about the job.
Here's an example of remote social media manager positions needed at Indeed.com: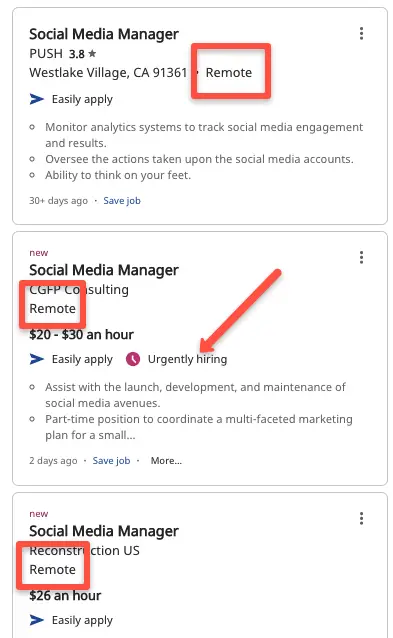 7. Affiliate Marketing
Affiliate marketing works well if your overall goal is less about freelancing to trade time for money and more about how to create passive online revenue.
It's also one of the simplest online marketing methods.
Why is that?
It's because you don't need to invest any time or money testing new product ideas, sales pages or sales funnels.
Instead, simply focus on generating traffic and building an audience.
From there, select products built by others, send your traffic to their proven sales pages and get paid commissions on every sale produced by your marketing efforts.
The other benefit?
You don't have anything to do with product fulfillment or customer service.
Create the sale, let the company you're selling for taking over and let them handle customer questions, returns, or refund issues.
The key to successfully creating affiliate marketing work from home revenue is focusing on one niche.
Don't try to be everything to everyone.
For example, if you're interested in real estate, then build a blog that offers insight and tips about topics such as:
Buy and hold strategies
Tax liens
Flipping properties
Next, find affiliate products that fit the needs of the people who find your blog posts interesting.
You might send them over to a coach who sells a high ticket coaching service. Or, you might sell into a tax lien course run by someone else.
What won't you do?
You won't try to get your real estate audience to buy something about network marketing.
That's not why they're on your website. Give them something that matches the topic of your blog and you'll create affiliate sales for yourself.
Another way to drive affiliate sales is becoming good at paid advertising.
Run ads that attract your target audience and send them to email subscriber optin pages or straight to a product's sales page.
You'll need to test which direction works best.
Some offers work better by making the sale directly after seeing an ad. Others work better by gaining email subscribers and selling on the backend via your email marketing efforts.
The bottom line?
Get started on your affiliate marketing journey by visiting affiliate networks and selecting one or two quality offers that get you excited to promote.
Here are three websites to start with:
8. Freelance Graphic Designer
Do you have graphic design skills?
There's no need to go into an office because this type of work is easily done from home.
Aside from design skills, you'll need to be good at these types of things:
Time management
Editing
Organization
Basically, you can build a strong client base and work remotely as a graphic designer if you pay attention to detail, are a good communicator, can multi-task and can come up with creative designs.
You should also assess your talent level when it comes to using photo editing software, handling client criticism, making zoom meetings on time and completing your work under client deadlines.
Similar to web development, graphic design work from home jobs are plentiful. Most businesses have a frequent need for quality graphic designs.
Get your start at places like LinkedIn, Dribbble, Glassdoor and SimplyHired:
9. Customer Service Representative
We've mentioned customer service in previous sections when the skillset has been important to other work from home jobs.
However, you might want to work in customer service alone if you're a "people person" and love helping others get their needs met.
Intelligent business owners understand that their brand's success can get derailed if they fail to keep their customers happy.
In fact, many of them know that 96% of consumers around the world use their customer service experience as the reason to stay loyal to a company or move to a competitor.
You have an opportunity to position yourself with as much work from home income as you want if you become a customer service specialist.
All you need is a solid Internet connection and phone line to get started with customer service work from home job income.
You'll be responsible for answering customer questions, processing repeat orders and handling complaints.
The ability to make people feel at ease and help them see past problems are big skills that employers look for when filling these positions.
If that sounds like you, then you can work for any number of companies, such as:
Banks
Utility companies
Credit agencies
Retail stores
Some companies specialize in filling customer service representative positions. Here's a list to get you started:
Of course, a Google search will also uncover plenty of opportunities: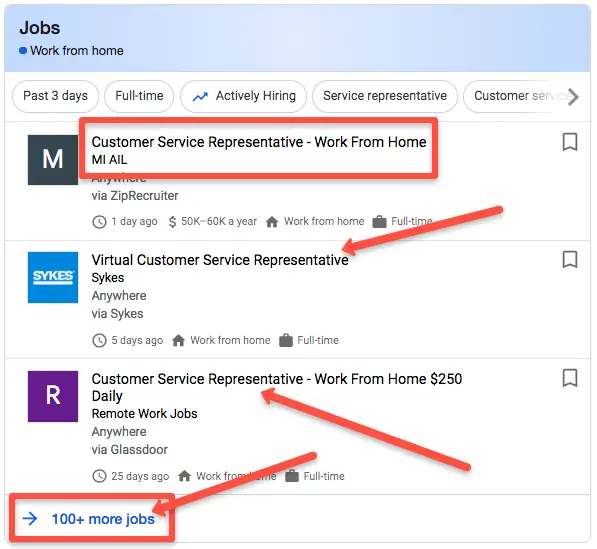 10. Bookkeeping
Unlike accounting, bookkeeping positions don't require a bachelor's degree.
Typically, you simply need a college degree in areas such as:
Mathematics
Accounting
Business
Even if you've only balanced the books working as a retail store manager or inside a family business, then you can likely find a work from home job in this area.
Every business needs a good bookkeeper. This means job security is high in this industry.
You can work inside all types of industries, such as with non-profits, bloggers, affiliate marketers, small business owners, etc.
Here's a look at common bookkeeper tasks:
Overseeing payroll
Entering & managing accounts payable and receivable
Filing accounting reports
Maintaining the general ledger
Keeping track of petty cash
Overseeing inventory counts
Average hourly rates for a bookkeeper are between $17 and $18 per hour.
I hope my list of the 10 best work from home jobs inspired you and helped you see the possibilities.
Now it's your turn!
Choose one of the above opportunities and get started on your application process.