Have you ever wanted to become your own boss and work from home?
Sure, who hasn't!
The dream of trading in your 9-to-5 job in favor of working from home is a dream for millions of Americans.
However, there's a limited number of jobs that you can actually do from home.
That's where affiliate marketing comes into play.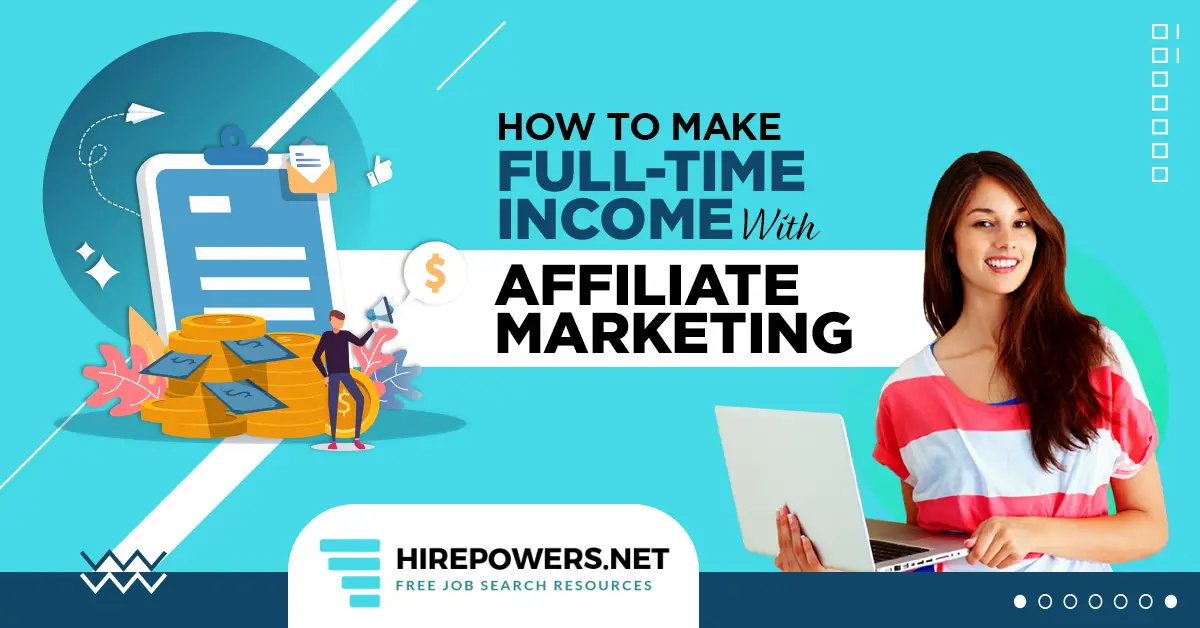 What Is Affiliate Marketing?
Before you jump in head first, you have to understand affiliate marketing. In short, an affiliate marketer is a person who gets paid to refer new customers or clients to other businesses' services or products.
As an affiliate marketer, you use an affiliate link that contains your affiliate number to refer the new customers. Traditionally, every person who buys a product or service through your link is tracked back to you, so you make a commission from each sale.
Your relationship with the companies with which you're affiliated can take multiple forms. For example, you might receive a commission from each purchase that your referrals make on the companies' websites.
This is common among new businesses that are trying to increase brand awareness. The amount that you get per purchase differs greatly, but it's usually between 1% and 10%.
Other times, you get paid for people clicking on your links and visiting the businesses' sites. Some affiliate programs even pay you for creating other affiliates. With these programs, you typically get a percentage of what people buy via not only your affiliate link but also the affiliate marketers under you.
Can You Make a Full-Time Income From Affiliate Marketing?
Yes, you can make a full-time income through affiliate marketing. In fact, there are individuals out there who earn tens of thousands of dollars a month through affiliate marketing.
However, you can't just put it into autopilot and watch it make money for you. It's not a get-rich-quick scheme. You have to put in the work to make it successful. Not putting in the work is why so many affiliate marketers fail.
I make a full-time living through affiliate marketing alone. In fact, I've created a system that helps me maximize my time. It allows me to get the most out of my affiliate marketing but work less than a traditional 9-to-5 job. Let's take a closer look at how affiliate marketing works and what you can do to make a full-time income with it.
Why Do Companies Pay for Affiliate Marketing?
Companies pay for affiliate marketing because it increases sales on their websites. For them, it's a type of advertising that offers a high turnover rate. In fact, nearly 81% of companies count on affiliate marketing. Because of this, it's worth more than $12 billion. Don't you want to get your piece of that pie?
How Does Affiliate Marketing Work?
Like we covered above, affiliate marketing takes multiple forms. The most common way to make money from affiliate marketing, though, is to promote businesses' products or services. You can use a variety of methods:
Write product reviews.

Advertise on social media.

Make videos about the products or services on YouTube.

Create banners or ads to embed on websites.

Send out email blasts.
In order to determine the best way or ways to promote a product or service, you have to do a little legwork. Remember that affiliate marketing is a flexible and logical sales model that can help you create multiple streams of income. In order to do this, though, you must:
Research the products or services that you push.

Build and maintain relationships with people who purchase products via your affiliate links.

Research web traffic patterns, and keep up with your followers' interests.

Understand the importance of search engine optimization.

Have consistent engagement with brands or products that you endorse.

Understand the importance of social media marketing.
Tips for Getting Started Making a Full-Time Income With Affiliate Marketing
If you're like me, you probably want to jump right in and start making money with affiliate marketing. However, you must choose a niche first if you want to make more than a little side money.
Finding your niche can be challenging. It can be something that you'll enjoy selling or something that's in high demand. For example, there's a high demand for web hosting, which happens to have a competitive affiliate market.
After choosing a niche, you can set up your own blog to drive traffic. On such a website, you can do web hosting reviews, blogs and content about web hosting in general. Remember to keep SEO in mind when you create this content. It will attract people to your site.
Sign Up for Affiliate Programs
In order to push products, you have to know which programs to push. This is when you need to find the best affiliate programs to join. Start by looking for affiliate programs within your chosen niche. Once again, if you choose web hosting, you would search for web hosting companies that offer affiliate programs.
It's possible to sign up with more than one affiliate program. In fact, joining multiple affiliate programs is a great idea. Doing so makes it possible to create a range of content, such as a list of the best web hosting companies.
Then, you can push more than one affiliate link. Also, it gives your website a little variety so that you aren't just pushing the same web hosting company or whatever product that you choose to endorse.
Understand the Different Affiliate Marketing Programs
Are you having trouble choosing an affiliate marketing program to join? You can narrow down your options by understanding the differences between the models. For example, a tier-one affiliate marketing program is one in which you get paid based on the sales that you generate from your specific affiliate link.
On the other hand, a tier-two program gives you a commission based on the sales that come from the affiliates that you refer to the company. Typically, a tier-two program pays a commission based on your sales too. Keep in mind, though, that it's only fruitful if a lot of referrals sign up under you.
Additionally, there's a climbing-tier program. The amount of money that you get per sale increases as you sell more. While you might not start off making a lot with such a program, it eventually evolves into a high-paying affiliate marketing choice.
Some other types of affiliate marketing programs include:
Pay per lead — You get a commission based on the total number of leads that you send to a business.

Recurring commissions — You get a bigger commission the longer that people stay subscribed to a service. This is common with subscription-based services.

Cookie commission — You get a commission based on everyone who uses your affiliate link and buys from a store. Unlike a traditional commission link, though, you get paid even if the visitors don't buy anything right away. This is made possible thanks to cookies that the website stores on each visitor's computer. Typically, the cookies last between 30 and 90 days.
The Pros and Cons of Affiliate Marketing

Pros
You don't have to carry physical products. Instead, you drive sales to stores that carry the products.

Affiliate marketing has low overhead costs because most programs are free to join.

You gain the flexibility to work from home and when you want to.

Affiliate marketing doesn't have to be your main job right away. Instead, it can provide passive or supplemental income. Eventually, you can build it up to become your full-time job.
Cons
It requires a lot of time to get started. You have to join affiliate programs and create a website to push their products.

There's a high level of competition, which makes SEO more important than ever.

You have little control over your income since your payments are based on other people's purchases.

You have to be motivated because your success relies on your own drive.
Turn Affiliate Marketing Into a Career
I like being my own boss and enjoy the flexibility that working from home offers. If this sounds good to you, give affiliate marketing a try. Using the information above, you can head down the path to becoming your own boss.
You can make a full-time income from affiliate marketing. However, you won't achieve that overnight because it isn't a get-rich-quick scheme. You have to put in the time. For that reason, you shouldn't leave your full-time job right away. Start with affiliate marketing on the side, and work your way up to doing it full time.